---
Hear ye! Hear ye! We are heading to Singapore Comic Con 2022!
Raffles College of Higher Education will be showcasing our suite of design courses at the Singapore Comic Con 2022!
Comic Con has evolved beyond a simple comic convention with concentration on Comics only. Comic Con today incudes the celebration of comics, pop culture, toy, collectables and games. In all that Comic Con stands for, Design is a huge part of how everything come about in the industry. Raffles as a premier design institute presents the perfect venue for aspiring designers who wants to step into the entertainment industry as exemplified by the event, should consider studying design at Raffles and be industry ready with our hands-on learning and industry focused curriculum. Learn from creative practitioners and through collaborative projects with industry partners and mentorship from industry leaders.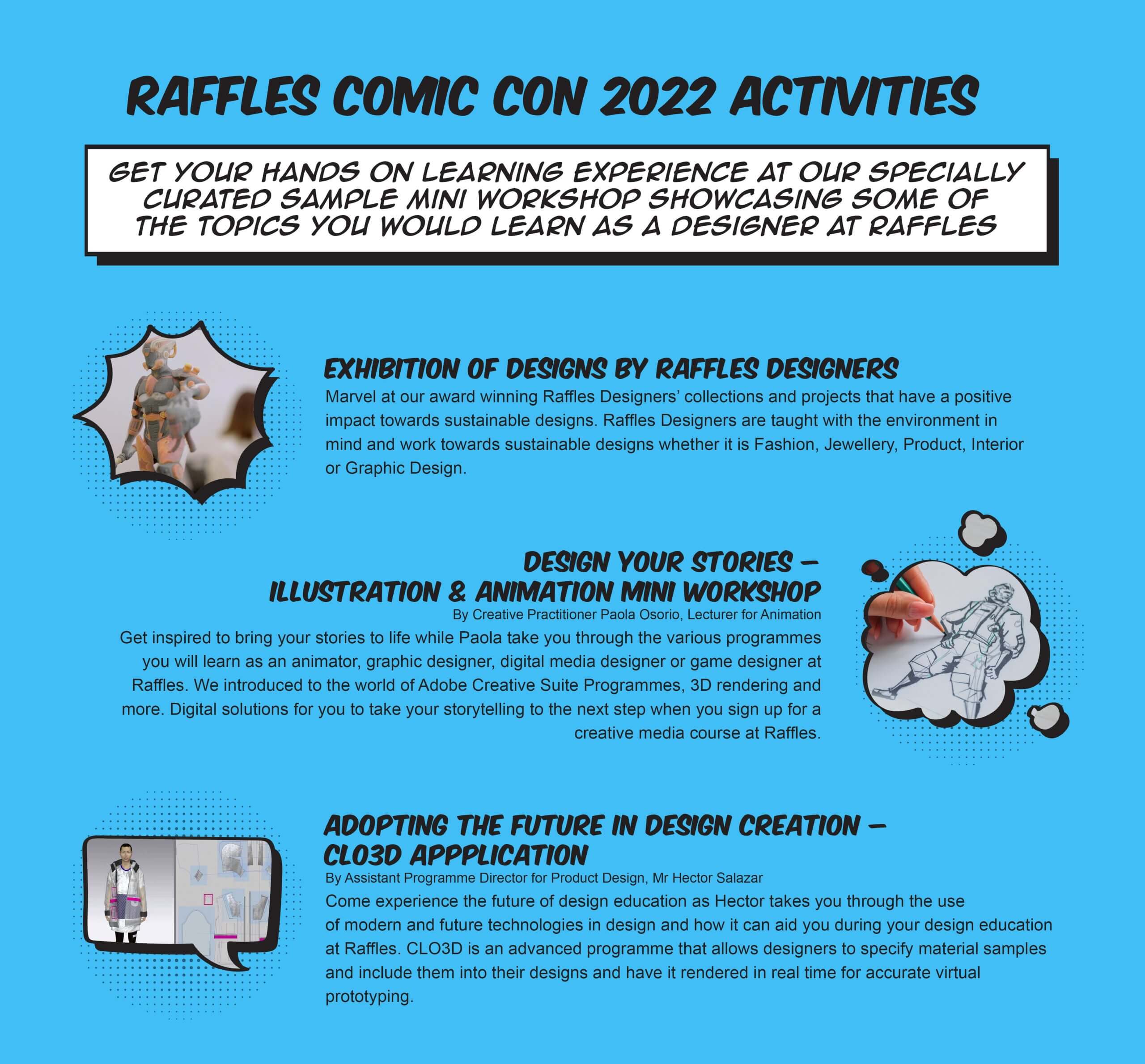 As we might have known, in the creation of content, be it comics, illustration, animation, movies, TV series, Toy design, Cosplay, set design and many more, design literally plays the most essential and crucial and creative role in the creation of creative content for consumers. We at Raffles are the providers of education to aspiring designers who wants to contribute to the ever-growing pop culture industry be it in the field of creative media production or physical product design and development or fashion and costume design or set design virtual and physical, Raffles will have a design course catered for aspiring designers to achieve their goal and achieve success by design.
Meet our friendly education consultants and find out more about our upcoming January 2023 intake, the perks and benefit of the Refer-A-Friend Referral Scheme where you could potentially get up to $500 in further rebates and our latest promotion if you sign up for Janurary 2023 intake. Also, head on down to check with our education consultants on your eligibility for a direct entry** to our Bachelor of Arts programmes (12 Months) with your relevant Poly Diploma in Design. 
Raffles Singapore's design programmes contains a hands-on learning approach combined with industry focused curriculum includes potential industry collaborations that might see your design being commercially viable and sold by notable brands. A valuable entry into your portfolio and resume, accelerating your employability into the design industry.
*Terms and Conditions Apply
**Subject to recognition of prior learning

---



Check out what Raffles has to offer!
Hear from our Designers College Experiences
Here's what to expect at SGCC 2022