Singapore Fashion Council (SFC) x Earthshot Prize Fashion Exhibition 2023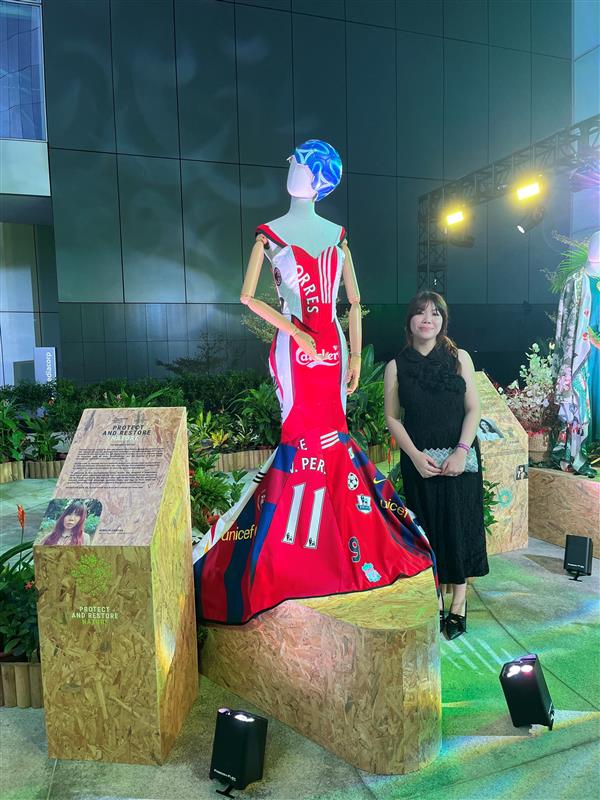 Raffles Fashion Designer Aurelia CARISSA displays her Sustainable Fashion Design
at Singapore Fashion Council x Earthshot Prize Fashion Exhibition 2023
Raffles College of Higher Education is proud to have Raffles Fashion Designer Aurelia CARISSA showcasing her sustainable fashion design entitled "Protect and Restore Nature" at the Singapore Fashion Council x Earthshot Prize Fashion Exhibition 2023! In collaboration with Singapore Fashion Council (SFC), The Earthshot Prize Green Carpet featured a thought-provoking fashion exhibition that guests could explore.
Protect and Restore Nature
"Football jerseys, adored by fans and athletes, inflict a staggering environmental toll. Their production is an excessive drain on resources, fueling water contamination and energy overuse, intensifying carbon emissions and climate strife. As players and sponsors shift, the cycle of jersey updates ensures, urging countless football enthusiasts to refresh their wardrobe with new editions, relegating old jerseys to obscurity and eventual disposal. In response to this environmental crisis, my design emerges — a resplendent, floor-length gown fashioned exclusively from donated past-season football jerseys. A vivid testament to transformation, it symoolizes fashion's power to renew and invigorate our commitment to a sustainable future.' – Raffles Fashion Designer Aurelia CARISSA
The Earthshot Prize is a climate initiative by His Royal Highness, Prince William and this year it is held in Singapore. The Earthshot Prize was launched by Prince William in 2020 to search for and scale the most innovative solutions to the world's greatest environmental challenges. The challenge to the world is based on five Earthshots and they are Protect and Restore Nature; Clean our Air; Revive our Oceans; Build a Waste-Free World; and Fix our Climate. HRH Prince William was in Singapore to grace the Prize Ceremony and to visit the various eco-initiatives and the Singapore Fashion Council x Earthshot Prize Fashion Exhibition 2023 at Mediacorp. In partnership with Temasek Trust, Temasek, GenZero and Conservation International, The Earthshot Prize will be in Singapore this November for a week-long celebration of innovation and impact.
Uncover your potential. Enroll with Raffles today!
For Singapore Fashion Council's Instagram Post visit here. 
To visit Singapore Fashion Council click here.
For more about Earthshot Prize visit here.