Design Orchard Heritage Festival 2021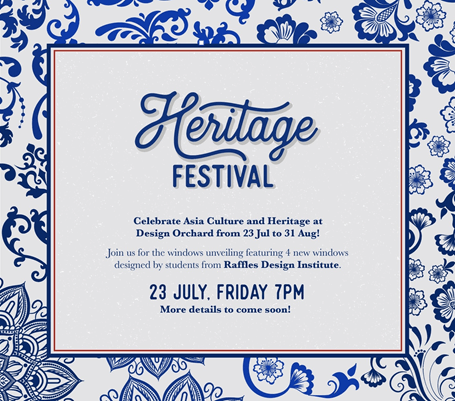 Raffles Designers featured at Heritage Festival 2021
Heritage Festival 2021
Raffles X Design Orchard 2021
Design Orchard has collaborated with Raffles in their latest event, Heritage Festival which runs from 23 July to 31 August 2021. Raffles Designers and Marketers from the Fashion Marketing Department, Jewellery, Interior and Product Design department were tasked to apply their visual merchandising knowledge in designing the window displays for the Heritage Festival.
9 proposals were submitted by the students, Design Orchard selected the winning design from our multi-disciplinary team:
Raffles Fashion Marketers: Iyer Ashwini GANESH+D121, Agarwal KUSHI, Vinca Vanessa SHALIM and Yuvan YOLANDA
Raffles Product Designer: Sequeira Thea LATITIA
Raffles Jewellery Designer: Teresa Pavita MAHARANI
Design Orchard is an integrated retail and incubation space that puts Singapore's designers and their creative pieces in the limelight.
Congratulations to the winning team!
Uncover your potential. Enroll with Raffles today!
View Design Orchard's Heritage Festival 2021 here.
View Raffles Designers' Window Display here.