Mifuyu FUKAI Launches Midori Collection – Raffles X RISIS 2021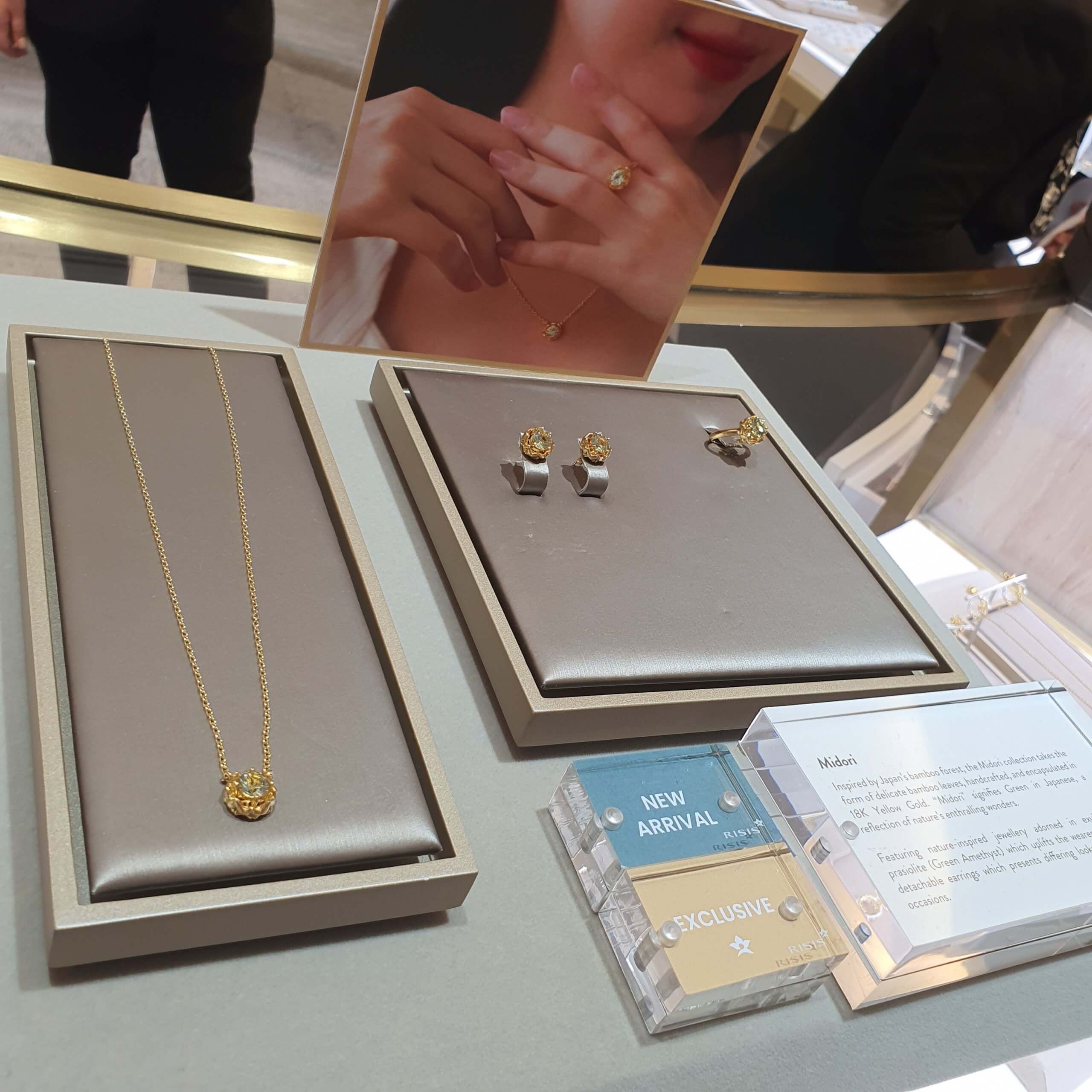 Raffles Jewellery Designer Mifuyu FUKAI launches Midori Collection at RISIS Boutique Singapore
Raffles X RISIS Boutique
Congratulations to Raffles Jewellery Designer Mifuyu FUKAI on her launch of the Midori Collection, now available at the RISIS Boutique at ION Orchard.
The Midori Collection by Mifuyu Fukai, comprises of a set of Ring, Earrings and Necklace made with Prasiolite.
Mesmerized by the beauty of Japanese culture, the Midori collection captures the skills of artisans and is inspired by the picturesque scenery of Japan's iconic landmark, the bamboo forest. "Midori" signifies Green in Japanese, a reflection of nature's enthralling wonders. Handcrafted and encapsulated in 18K Yellow Gold, each piece takes the form of delicate bamboo leaves, intricately weaved with associations of strength, peace, and eternal youth as a demonstration of its meticulous craftsmanship.
Featuring nature-inspired jewellery adorned in exuberant prasiolite (green amethyst). Each piece brings out the inner glow of the wearer, akin to one taking an enchanting walk through the forest that captures the interplay between light and leaves, evoking feelings of tranquillity. Includes detachable earrings which presents different looks for varying occasions. (RISIS, risis.com)
This is an amazing collaboration between Raffles and RISIS to have a student launch her collection commercially. It is truly an amazing feat to have one's work commercialised as a student, this provides for an invaluable addition to her portfolio giving her the necessary edge as a designer over her peers in employability.
Raffles strives to provide for an industry focused curriculum and a hands-on learning experience for our designers to be constantly updated with the latest in design technology and methodologies, this also in turn provides designers with the avenue to participate in industry collaborations and competition to build their portfolios with industry contributions adding to their employability.
Uncover your potential. Enroll with Raffles today!
Check out our previous collaboration with RISIS here.
View Midori Collection here.
Visit RISIS Singapore here.