Singapore Good Design Awards (SG Marks) 2023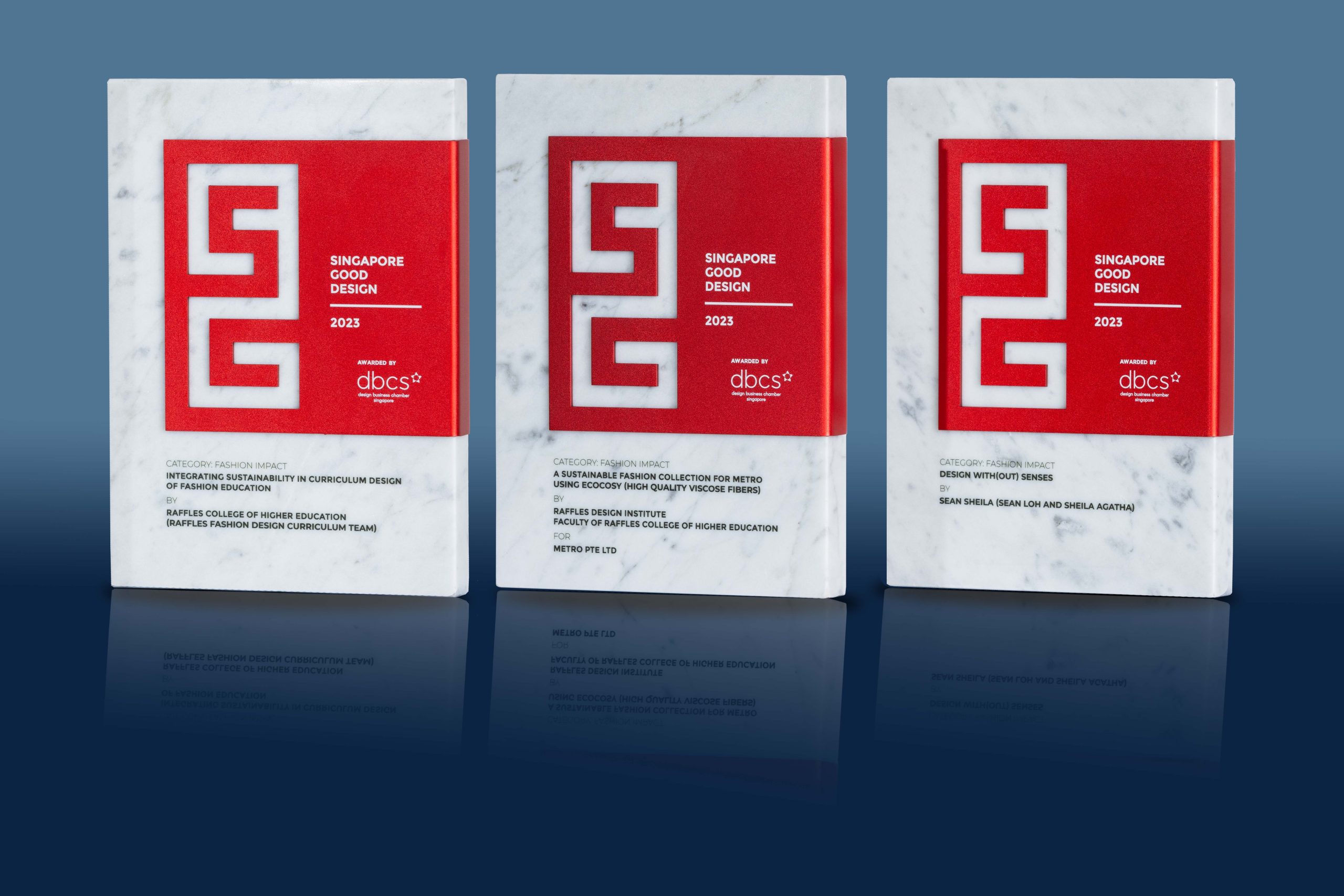 Raffles College of Higher Education wins 3 Prestigious SG Mark Awards by Design Business Chambers Singapore (DBCS)
We are proud to announce that Raffles College of Higher Education has been awarded 3 of the prestigious Singapore Good Design (SG Mark) Award 2023 from the Design Business Chamber Singapore on 31 August 2023 at the Singapore Chinese Cultural Centre!

1) Integrating Sustainability in Curriculum Design of Fashion Education read more…
2) A Sustainable Fashion Collection for Metro Using EcoCosy (High-Quality Viscose Fibers) read more…
3) Design With(Out) Senses by SeanSheila (Sean Loh and Sheila Agatha) read more…
Kudos to Principal Giuseppe (Joe) SPINELLI Giuseppe Joe Spinelli for leading the Raffles Fashion Design Curriculum Team in integrating sustainability into Raffles' fashion design curriculum to prepare our Raffles Fashion Designers for the future.
As part of Raffles Design curriculum promoting sustainability, we collaborated with METRO (Singapore) and SF Fiber to create stylish, versatile, and sustainable wardrobe for fashionable and busy professional ladies. This fashion collection, exclusive to Metro Department Store, embraces comfort, practicality, and responsible choices for a greener future.
We would also like to congratulate Raffles Fashion Designers Sean LOH and Sheila Agatha Wijaya for receiving this prestigious award for their business model, which trains and employs the underprivileged community to be part of their fashion label Sean  Sheila. Their submission for this award, named "Design with(out) Senses", is a new and loud voice in the fashion industry.
Uncover your potential. Enroll with Raffles today!
To learn more about SeanSheila's project "Design With(Out) Senses" visit here.
For more about SG Marks Award visit here.